Gauteng Things To Do
The Irene Dairy Farm (Centurion)
Categories: Cafés & Eateries / Family Entertainment / Farm Stalls & Markets / Restaurants: Cafés & Coffee Shops
Price group: Free to Browse (see other things to do in this price group)
Available in the following region(s): Northern Gauteng
Address: Nellmapius Road, Irene, Gauteng
Telephone: +27 (0)12 667-2326
Opening hours: Daily from 08h00 to 18h00.
To see more restaurants:
South Africa Restaurants / Gauteng Restaurants / Centurion Restaurants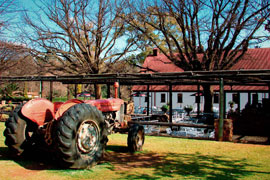 Irene Dairy Farm offers a little something for everyone; there is the Dairy Shop that sells a decadent, rich, calorie laden thick cream (perfect for afternoon scones) and the rather unique concept of five litre buckets of fresh, raw farm milk. The shop is open from 8am to 6pm all year around (and by that I mean 365 days per year).

The estate boasts two restaurants, the Deck or Barn and both serve a range of freshly made breakfast and lunch dishes. Housed in well, a barn (and one of the original barns at that) directly across the farm yard from the shop, the Barn Restaurant serves breakfasts that range from fresh fruit and yoghurt to French toast to the Barn breakfast. Those with a lighter appetite will be satisfied with scones, muffins or pancakes from the Chefs Pantry while those visiting for lunch will have a tough choice choosing from the vast selection of salads, sandwiches, farm sandwiches and burgers on offer. Breakfast and lunch buffets are also offered on the weekends.

The Deck Restaurant is directly off the Dairy Shop and offers an equally delicious menu with all sorts of tasty treats. Breakfast options are crumpets, pancakes or a 'proper' cooked breakfast while sandwiches, open sandwiches, wraps, salads and chefs choices make up the rest of the menu - there is definitely enough to choose from.

Additional Reading
For a first hand review see our article at "Visit the Irene Dairy Farm for a farm style breakfast or five litre bucket of milk!".

Irene Farm Conference & Wedding Venue
If you are looking for a special venue for your wedding or special event, have a look at what Irene Farm offers. Situated in a 120 year-old converted barn, the Irene Farm Conference Centre seats up to 100 people and is perfect for full-length conferences, private functions, end-of-year office parties and weddings. More info at ...
Why Not Overnight?
Find Accommodation in Centurion
The elegant yet affordable 4-star Protea Hotel Waterfront Centurion is located on the tranquil Centurion Waterfront, midway between Johannesburg and ...
37 @ The Pines is a catering apartment that sleeps up to four people, is fully equipped and furnished to make your stay both relaxing and ...
Related Pages
Travelling to Centurion
• Things to Do in Irene
• Irene Attractions
• Irene Bed & Breakfast
• Irene Accommodation
• Gauteng Accommodation