Eating Out in Irene

Dining at A値a Turka

Caf駸 & Eateries Northern Gauteng

Where? Yadah Castle, 711 Sterkfontein Avenue, Doringkloof East, Near Irene, Gauteng

When? Please enquire - Bookings advised.

How? Call +27 (0)11 203-4044 or +27 (0)11 203-4605

Overnight? Stay at accommodation in Irene, in Gauteng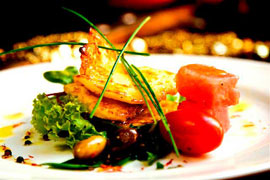 An extraordinary ambiance that transports you to an exotic foreign land as A値a Turka offers you a very unique dining experience of Turkish cuisine. This magical creation was brought about by married couple Gokhan being from Turkey and Vannessa, from Lebanese descent. They designed the menu by combining the two cultures, choosing to also infuse other Middle Eastern and Mediterranean flavours to tempt the palate.
Not forgetting the power of the interiors design, the beautiful lighting, priceless antiques and art adorning their walls are a sure sign of design excellence. Persian carpets and comfortable pillows which are scattered across the Ottoman and Beirut Tent and the Gypsy harem, are for you to relax and unwind from all the tensions of the outside world. This is just another detail to make your experience both delicious and unforgettable.