Eating Out in Irene

Doppio Zero Restaurant

Cafés & Eateries Northern Gauteng

Where? Southdown Mall, Corner of John Vorster & Karee Streets, Irene, Northern Gauteng

When? Monday and Sunday from 07h00 to 22h00
Tuesday to Thursday from 07h00 to 22h30
Friday and Saturday from 07h00 to 23h30

How? Call +27 (0)12 665-0784

Overnight? Stay at accommodation in Irene, in Gauteng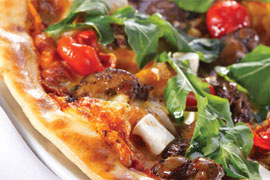 Enjoy phenomenal Mediterranean cuisine at Doppio Zero, which can be found at Southdown Mall in Irene.
Their vast array of breads is all home baked (sour dough, Turkish bread, ciabatta, buttermilk & barley rye and focaccia) and compliment the exquisite food very well.
The starter choices are mouth watering and boy what a selection it is. If you are after a light lunch, there are gourmet sandwiches and wraps, tremezzini's, fishcakes, burgers and more. For the more hungry or a main meal at dinner, you will enjoy the sumptuous pastas, steaks, seafood platters and pizzas.
Please Note
Business details can change. All information is published in good faith as supplied by the providers. Please check with the provider that the activity/business is still offered as described above, before making any travel plans.