Free State Golf Courses
Clarens Golf Course, Clarens
Designed by
Golf Data
Type
Parkland golf course
Holes
18
Par
71
Fairway Grass
Kikuyu
Greens Grass
Bent
Length
TBA (Ladies: TBA)
Telephone
+27 (0)58 256-1270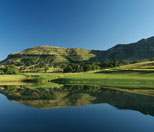 Clarens Golf Course, Clarens Golf and Trout Estate, Free State, South Africa / The par 71 golf course, designed and constructed by Golf Data, is bound to excite every level of golfer. All 18 holes meander along and across the tranquil river and its splendid series of dams and cascading waterfalls. The manicured Kikuyu fairways and Bent Grass Greens are framed by mature Willow and magnificent Lombardi poplar trees, and great care has been taken to ensure that each round of golf you play will be more memorable than the one before.

The Course
Your round of golf at The Clarens Trout & Golf Estate begins at the stylish clubhouse, strategically positioned to view the finish of both nines, as well as the magnificent Mount Horeb (Setlofe). According to Basotho legend, the mountain Setlofe is a shy maiden. She was betrothed to the warrior, Matsa (Rhebokkop) who jilted her for another. This broke Setlofe's heart and even now, when she thinks about it, she draws her veil around her head and weeps. Thus when Setlofe is shrouded in cloud, it will soon rain in Clarens.

The playing surface of the manicured Rye and Bent mix grass greens are framed by mature Willow and magnificent Lombardi poplar trees, characteristic of the area. This layout is a classic "risk and reward" design. With the fairways wide at the landing areas off the tees, one can easily reach the greens in regulation to your handicap. However, nearly every green hugs the water, so it's a case of play safe to your handicap, or attack the flags to "go low".

Great care has been taken to ensure that each round of golf that you play will be as memorable, if not more memorable than the previous one, through attention to detail and beauty.

Stay overnight
Find accommodation in Clarens (by location map) or see Clarens Accommodation (with preview images and description). Consider Clarens Hotels (ranging from 3-5 star) or if you prefer to do it the self catering way, you will find our comprehensive list of Clarens Self Catering options useful.

Also see Thabo Mofutsanyana Accommodation and Thabo Mofutsanyana Hotels for overnight options in surrounding towns or see Free State Accommodation and Free State Hotels for a place to stay in other towns and cities in the Free State.

Did you know?
The Clarens Golf and Trout Estate is nestled in a valley with spectacular scenery. The estate features a country style 18-hole golf course and trout-fishing waters. The area is rich with fossils, and the surrounding sandstone mountains that are often dusted with snow, are multi-coloured geological wonders.
golf courses in the free state