Things To Do in Melkrivier

Pedi Potters

Arts & Crafts Cultural Sites Waterberg

Where? Pedi Potters, close to Melrivier, Waterberg, Limpopo

When? Please enquire.

How? Call +27 (0)73 480-3992

How much? Free to browse

Overnight? Stay at accommodation in Melkrivier, in Limpopo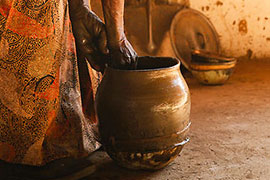 Revealed by archaeological research over the past two decades, it has been established that pot-making in the Waterberg goes back hundreds of years. The ancient craft performed by women of past cultures, gives us insight into their daily lives, the heritage, culture and the minutiae of domestic life.
Anna, an 80-year-old 'Pedi' woman, continues the tradition of pot-making, with the assistance of her children and grand-children, offering visitors the experience of watching this age old tradition of moulding pots from natural clay, moulding, decorating and firing in a ground oven. Anna invites visitors to view the process as she works next to her traditional Pedi-style home, where a variety of pots are for sale.