Eating Out in Polokwane

Eat out at Ambiance in Polokwane

Where? 34A Rabe Street, Polokwane, Limpopo

When? Monday to Friday from 08h00 to 21h00.
Saturday and Sunday from 09h00 to 14h00.

How? Call +27 (0)15 291-4012

Overnight? Stay at accommodation in Polokwane, in Limpopo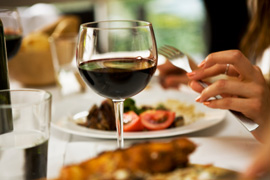 Considered an excellent day time venue with seating outside in the well kept garden, Ambiance has found its popularity in its lighter meals like the quiches, filled pancakes or wraps. Some delicious tea time treats are also available and apparently the carrot cake is a must try!
With and elegant indoor area and some everyday favourites on their wine list this is a perfect place to sit back with some friends or family and enjoy the relaxed, private feel of this restaurant.
An added extra is that it is said to be "One of the prettiest Venues in Polokwane" by Eat Out Magazine.