Things To Do in Pretoria

Visit the Sammy Marks Museum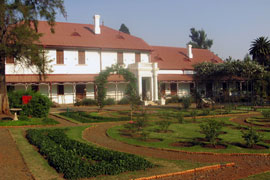 Return to a bygone era with a visit to the Sammy Marks Museum in Pretoria.
This lovely Victorian mansion which dates back to 1884 and Victorian garden (tour available) make for a day out with a difference. The mansion was the residence of Sammy Marks who made a significant contribution to the mining, industrial and agricultural development of the Zuid-Afrikaansche Republiek.
For additional info please see Sammy Mark Museum.