Things To Do in Pretoria

Pretoria Day Trips

Where? Pretoria, Gauteng

When? Daily tours available.

How? Call Various Operators

How much? Falls into price group R101 to R200 per person. Confirm with the provider.

Overnight? Stay at accommodation in Pretoria, in Gauteng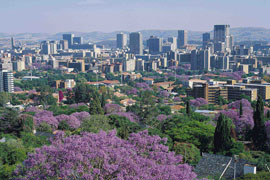 Guided day trips of Pretoria - Known as the Jacaranda City for all the purple blossom-bedecked trees which line its thoroughfares, Pretoria is a lovely and very interesting city, with a long and involved history.
It is in Pretoria that you will find significant old buildings and fascinating museums including the famous Union Buildings, Voortrekker Monument, Church Square and Melrose House to mention a few.
Pretoria also serves as one of the country's three capital cities, officially the executive or administrative capital. For additional information and sight seeing ideas, see Pretoria Attractions and for a selection of day trips see Pretoria Tours available from various selected Tour Guides.