Eating Out in Sterkfontein

Caterpillar and Catfish Cookhouse

Cafés & Eateries Thabo Mofutsanyana

Where? Windmill Farm, R74, Oliviershoek Pass, Northern Drakensberg, Free State

When? Breakfast: Monday to Sunday from 07h30 to 10h00.
Lunch: Monday to Sunday from 10h00 to 15h00.
Dinner: Monday to Sunday from 18h00 to 20h30.

How? Call +27 (0)82 530-1062

Overnight? Stay at accommodation in Sterkfontein, in Free State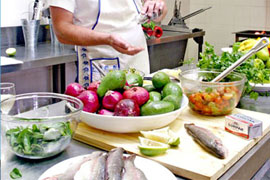 Featured in the '101 Beloved Bars of Southern Africa', this special 'cookhouse', with its jazzy overtones, frequented by the down to earth, genuine, vivacious, happy, exuberant, offbeat, creative, and inspired traveller, who has zeal for life, food, wine and jazzy blues, we think this place is a hit.
Looking at the menu, we feel the obvious passion that makes the Caterpillar and Catfish so warm and inviting. We will start with a few goodies from the lunch menu, which include the Cookhouse Club Sandwich, consisting of slow-smoked chicken breast, grilled with cilantro bacon, topped with fennel mayo, avo and banana salsa; Cajun popcorn - a true Louisiana classic served in an avocado with cookhouse comeback sauce; Creole fries; Fried green tomatoes with shrimp roulade, and the Catfish Court bouillon.
One of the many menu highlights for dinner include the Mardi Gras Jambalaya; Jamaican jerk fowl with isigingi - (No, not your mother in law), but the best rum marinated chicken breast with isigingi and jerk dipping. Grilled Drakensberg trout, wonderfully stuffed with lemon and herbs, and served with spinach and garlic cream and last but not least, the Flame grilled beef rump.
We reckon you would be a fool to miss this special spot!
Please Note
Business details can change. All information is published in good faith as supplied by the providers. Please check with the provider that the activity/business is still offered as described above, before making any travel plans.