Western Cape Maps
Map of Newlands, Western Cape
Newlands Map - Newlands detail and street level map showing popular attractions including Table Mountain National Park, Newlands Cricket Ground, the location of the Western Province Rugby Stadium and Kirstenbosch Botanical Gardens and its close proximity to Claremont. To find out more about Newlands see Newlands Information.
If you are interested in overnighting in the area, we can recommend some great hotels, guest houses and self catering establishments. Find them at Newlands Accommodation. If you're only planning on driving through Newlands, en-route to another destination, you may want to peruse our Newlands Restaurants before you leave to see if you should plan a stop here for lunch or maybe just a coffee. Also check out Newlands Things To Do to see if there are any activities for which you would consider stopping.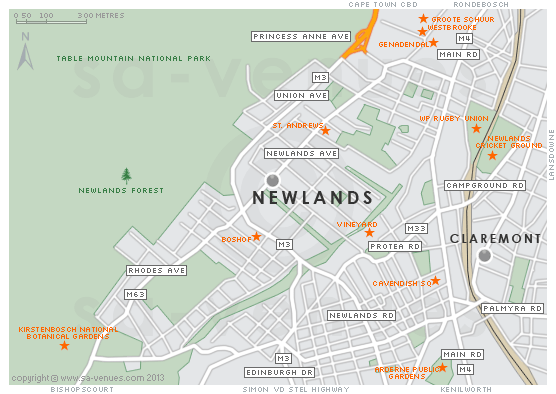 Related Links
Featured Attractions in (or near) Newlands

Cavendish Square Shopping Centre is an award-winning shopping mall situated in the heart of Cape Town's Southern Suburbs in the upmarket suburb of Claremont. Cavendish Square encompasses over two hundred of the most elite stores in the country. Visitors to Cavendish Square can look forward to ... more information

Cecilia Forest is a beautiful part of Constantia in which to walk. There are a number of routes to choose from, the most popular of which begins at the Cecilia Forest car park where Rhodes and Hohenhort Drives meet. You do need to watch out for the forks along this path as initially you take ... more information

There are five dams on top of the table top, accessible via a number of hikes up the mountain. The dams - The Woodhead, Hely-Hutchinson, De Villiers, Alexandria and Victoria - are all on the mountain's back table... more information

Cape Town used to have a zoo. Originally built in 1897 by Cecil John Rhodes to house a couple of lions and a leopard given to him, it went on to house his private menagerie, one he hoped to grow until it contained animals ... more information

Kirstenbosch National Botanical Garden is world renowned for the beauty and diversity of the Cape flora it displays and for the magnificence of its setting against the eastern slopes of Table Mountain. Kirstenbosch grows only indigenous South African plants. The Kirstenbosch estate covers 528 hectares ... more information

Newlands Cricket Grounds
One of the most picturesque cricket grounds, Newlands was host to the opening ceremony and match of the 2003 Cricket World Cup. Visit the President's Suite; the exclusive South Club and the control rooms, including the scorers' and third umpire's booth. Take a walk around this beautiful ground.

Newlands Forest is well loved by locals. The green, peaceful space is all that remains of former dense, indigenous forest covering much of the eastern slopes of Table Mountain. Back then the forest served as part of the ... more information

Newlands Rugby Stadium
Ever since the first matches played here in 1890, Newlands has become one of the world's most respected rugby stadiums. The second oldest test venue in the world, Newlands is now a modern 51 000 capacity stadium and has witnessed countless dramatic matches through the ages.

Rondebosch Common is unusual - it is not state, municipal or regional council land. In fact it is a donation of private land by Cecil John Rhodes in his will to be left as a permanent open space for the people of Cape Town. It is also a National Monument and one of the best-known ... more information

Cape Town's Main Road (M4) runs from the southern corner of the Castle, around Devil's Peak and through the rowdy streets of Woodstock, Salt River, Observatory and Mowbray all the way to Muizenberg. It was... more information

The Liesbeek River is reputedly the oldest urbanised river in the country. The first river ever named by Jan van Riebeeck, he called it after a little river in the Netherlands. Today about 70% of it is canalised. You'll find the Upper Liesbeek River Garden along... more information

Up on the banks above the stream at which children play, on the lower slopes of the Kirstenbosch gardens, lies the magic forest - a haven for children who love to clamber in and on the several huge, ancient trees ... more information
Related Links
On Holiday in Newlands
• About Newlands
• Newlands Photographs
• Newlands Things to Do
• Newlands Accommodation
• Newlands Hotels
• Southern Suburbs Accommodation
• Southern Suburbs Hotels
• Cape Town Accommodation
• Western Cape Accommodation
• Newlands Forest Walk To The Base Of Newlands Ravine