Western Cape Maps
Map of Klein & Central Karoo, Western Cape
Klein & Central Karoo Map - Klein & Central Karoo detail and street level map showing the towns and some attractions of the Klein & Central Karoo region in the Western Cape. A major tourist attraction in the Karoo, the Cango Caves, are internationally renowned as one of the world's great natural wonders. Sculpted by nature through the ages, their fascinating limestone formations occur. To read more about this fascinating region please visit Klein Karoo Information.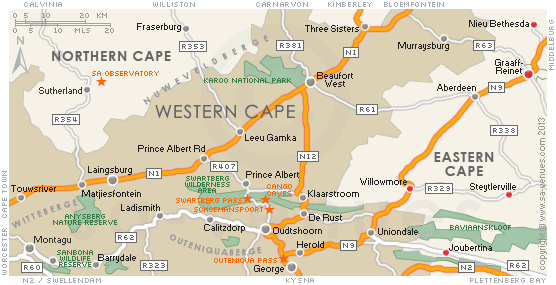 Visiting Klein & Central Karoo?
See Things To Do in Karoo or, if you are looking for a specific type of thing to do, search Things To Do in Cape Town by category (includes adventure, sight-seeing, watersports, wine-tastings, etc).