Western Cape Maps
Map of Olifants River Valley, Western Cape
Olifants River Valley Map - A detailed Olifants River Valley map indicating towns, national roads and attractions of the Olifants River Valley in the Western Cape. There are numerous delightful villages that offer warm hospitality to visitors. You can travel around the Olifants River Valley for days and never get bored. To find out more please visit Olifants River Valley Information.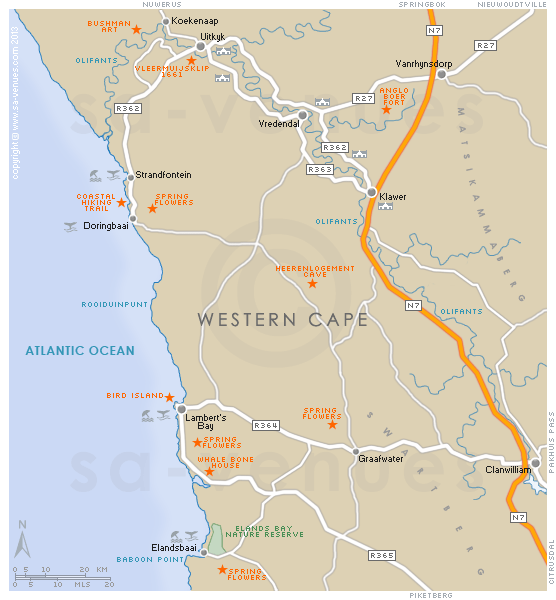 Related Links
Featured Attractions in (or near) Olifants River Valley

The Cederberg Wilderness Area lies some 200 km north of Cape Town. This vast area stretches from the Middelberg Pass at Citrusdal to north of the Pakhuis Pass at Clanwilliam, encompassing some 71 000 ha of rugged, mountainous terrain. The Cederberg was proclaimed a wilderness area ... more information

The Olifants River wine route starts at Citrusdal, 180 km outside of Cape Town and meanders along the river for 120 km until it reaches Lutzville and the country's most westerly vineyards. This area around Lutzville is regarded as one of the most ideal wine growing areas due to its mild climate, misty ... more information
Olifants River Valley
Holiday Accommodation in Olifants River Valley
For accommodation in the Olifants River Valley see:
• Cederberg Accommodation • Strandfontein Accommodation • Vredendal Accommodation

Or to see all accommodation in this region at once, visit Olifants River Valley Accommodation.