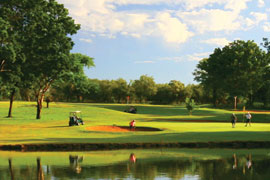 This is another fine course which first evolved from the drawing board of Robert Grimsdell. A major attraction of the Hans Merensky course is the visiting wildlife - the course is bordered by the Kruger ...
On the banks of the Great Letaba River lies the Hans Merensky Nature Reserve, just west of the Kruger National Park and not far from Tzaneen. The main draw card to this beautiful reserve is the fact that you ...
Letaba Elephant Hall (elephant museum) - Lying on the banks of the Letaba River, Letaba Camp is one of the favourite camps at Kruger. Its name means 'river of sand' and describes the riverbed that is a perfect ...
Letaba Ranch Game Reserve, part of the Greater Kruger National Park conservation area, is particularly well known for sightings of elephant and buffaloes, and the mighty Letaba River that flows through the ...
Palaborwa Gate gives you access into the northern section of the Kruger National Park. By comparison with the more frequently visited southern section, the north is dry, there is a propensity for Mopane trees ...