The Hector Pieterson Memorial and museum opened in Soweto in 2002, not far from the spot where 12 year-old Hector was shot on the 16 June 1976 during the Soweto uprising that today is a symbol of resistance to ...
8115 Vilakazi Street, Orlando West in Soweto is known to many simply as Mandela House. It was where Nelson Mandela lived between 1946 and 1962. The house is a humble abode of four inter-leading rooms that ...
In the midst of Soweto, on the corner of Majoeng and Ntsane Streets, you will find a garden. Actually it looks as if it could be a forest, the many trees of the garden are so dense, and it certainly qualifies ...
The iconic Orlando Towers have been converted from being two unsightly cooling towers to being the site of some of the most fun and exhilarating adventure sports in the country. They are situated in Soweto, ...
Having been established in 1974, this course was soon a favourite for its being the only course that accommodated black golf players. However, in its early years, it only had sand greens and no real fairways ...
Visit this fascinating town, meet her people, learn about the history of Soweto from the people who experienced it, dine in her restaurants, visit a Shebeen (local Pub), take a guided tour and perhaps visit ...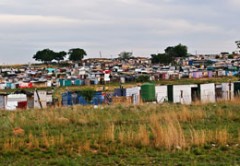 The Soweto Tour: The Soweto tour gives you the opportunity to gain a new perspective and personal insight into the largest Black city in Africa. Soweto is synonymous with the struggle for freedom in South ...
Just about every tour through Soweto stops at Vilakazi Street. There is reason enough. It is probably the most famous street in the huge Soweto township. Both Nelson Mandela and Archbishop Emeritus Desmond ...