Sunningdale, Johannesburg
Lying in amidst the well established suburbs of Bramley, Lyndhurst, Highlands North and Corlett Gardens, Sunningdale, whilst not well known to those who live in the city, is positioned in a highly advantageous part of Johannesburg, just north of the Linksfield Golf Club, west of the N3. Not least because of its access to the city and to Sandton.
Like much of Johannesburg, Sunningdale is a melting pot of architectural styles and community, and lies in the midst of the 'working city' suburban vibe that makes Johannesburg such a shock for the visitor, yet functions as something of a mainline fix for those who live here on a permanent basis.
One does not come to Johannesburg to slow down. It is one of the only cities in South Africa where integration is obvious. Staying in Sunningdale means you are close enough to the pulse of Johannesburg and the myriad attractions - Carlton Centre, Zoo Lake, Emmarentia Dam, Melville and near-at-hand the village of Norwood. Johannesburg might not have a mountain, or the sea, but it's concrete jungle is brimming over with an atmosphere that no other city in the country can imitate.
From Sunningdale Johannesburg's business district, Sandton, is easy to reach via the M1, and it is here that one can really experience the pulse of what it means to live in the city - whether it's business or pleasure. This is Africa's richest square mile, dominated by Manhattan-style skyscrapers and sprawling shopping malls, and there is little to beat it if you're after a heady experience. If you want calm and sedate whilst visiting, then head to nearby James and Ethel Gray Park, Melville Koppies or Emmarentia Dam.
In the vicinity
Hotels & other accommodation options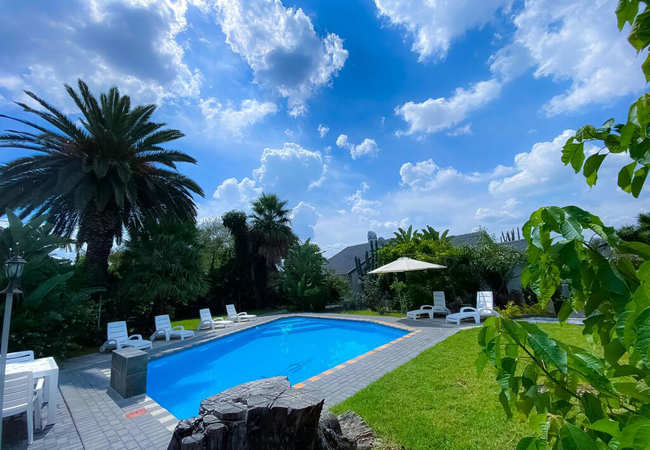 Guest House
KV Luxury Guest House is located in Johannesburg. The accommodation is situated north of Linksfield Golf Club, is within easy reach of Sandton an...
Noteworthy attractions
Find accommodation in Sunningdale
FIND / South Africa Accommodation / Gauteng Accommodation / Johannesburg Accommodation / Sunningdale Accommodation
Sunningdale as a destination