Little Falls, West Rand
Once upon a time, Little Falls was to 'doer and gone' (local speak for 'to hell and gone') out in the country and you had to travel some way from the centre of Johannesburg to reach it. After you had put the city behind you, you got that true open road feeling - blue sky above, nothing but you and the open veld. And then Little Falls.
Today, Little Falls is townhouse country. The swell of development that moved swiftly across the northern flanks of Johannesburg consumed the 'country' aspect of this part of the world, which now borders on Strubens Valley, Wilgeheuwel and Kloofendal Nature Reserve.
Little Falls is still just off Hendrik Potgieter Road en route to the Walter Sisulu National Botanical Garden, and must have been named after water (obviously!) of some description as many of the street names here fall into the water theme - Rapids Avenue, Cascades Road and Waterval Road a few examples.
Some selvedged country lifestyle remains in Little Falls. Kloofendal Nature Reserve is a sanctuary for birds, plants and small animals just along Galena Avenue. It's a great space in which to take walks along winding footpaths and if you're quiet you will spot mountain reedbucks, duikers, and the odd hare and dassies. There is also a bird hide at the dam.
A little further along Hendrik Potgieter, heading out towards the Magaliesberg, will bring you to the Walter Sisulu National Botanical Garden, also now hemmed in by development, but still a wonderful break from it all. These exceedingly popular gardens (weekends can get a little busy) are a great spot to meet up with friends for picnics, and a space in which to walk, enjoy only indigenous trees and some 600 species of indigenous flowering plants and shrubs.
Travellers' Reviews
3 Reviews from SA-Venues.com travellers. All reviews are verified.
would like to come visit and just get to relax for the day
doreen (johannesburg)
Found the place to be quiet and secluded
Denise Morgan (Randfontein)
In the vicinity
Hotels & other accommodation options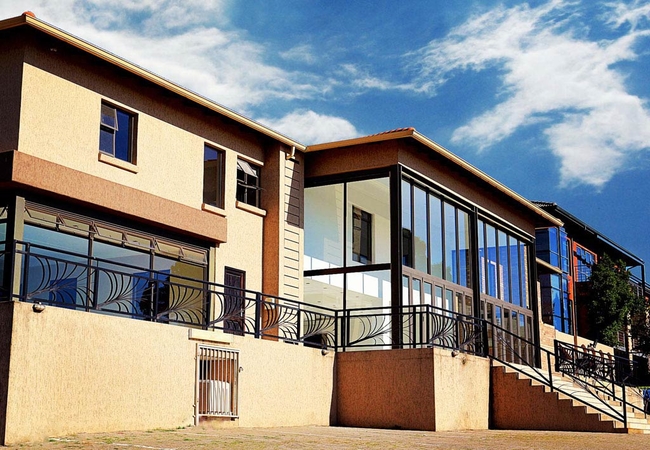 Hotel / Guest House
Eagle Nest Accommodation in Roodepoort offers a comfortable stay that is just 3.6 km from Clearwater Mall, 6.6 km from Cradle Stone mall and 4.2 ...
Noteworthy attractions
Find accommodation in Little Falls
FIND / South Africa Accommodation / Gauteng Accommodation / West Rand Accommodation / Little Falls Accommodation
Little Falls as a destination