Wolwefontein, Karoo Heartland
The village of Wolwefontein lies on the southern edge of the Karoo. It is one of those sleepy, little villages to which one pays no heed, on the road between Jansenville and Uitenhage, north east of the Baviaanskloof.
There is little in Wolwefontein, which lies in the crook of the meeting place of the R328 and R75 north west of Kleinpoort, to attract the traveller other than the Wolwefontein Hotel and a smattering of homes that make up the local coloured community.
But the area is the boundary between the Karoo and Valley Bushveld regions where you will find a huge variety of indigenous succulents and plants, and Wolwefontein makes an easy stop between Steytlerville and the Addo Elephant National Park. Besides, the stillness of the Karoo in Wolwefontein is hard to beat.
The hotel has been here since it was built by a local farmer and his partner way back when. The actual age of the hotel is unresolved as there are no documents to confirm anyone's guesstimate. But the current owners think it is between 100 and 150 years old.
In the old days Wolwefontein was an opportune overnight spot for travelling salesmen who made their way across the Karoo, and local farmers who used the hotel as a meeting place over weekends.
The hotel is still intact with its wooden floors, old pub and fireplace. The second building alongside has recently got a new coat of paint and the roof shines a deeper shade of green. The old railway station, one of the main reasons the town exists, is now overgrown with grass, but the Wolwefontein sign makes for a good photo opportunity.
The town's name is a bit of a mystery. South Africa is not known for its wolves, although 'wolf' is the Afrikaans for hyena and it is possible that hyenas were spotted in the vicinity when the town got its name.
In the vicinity
Hotels & other accommodation options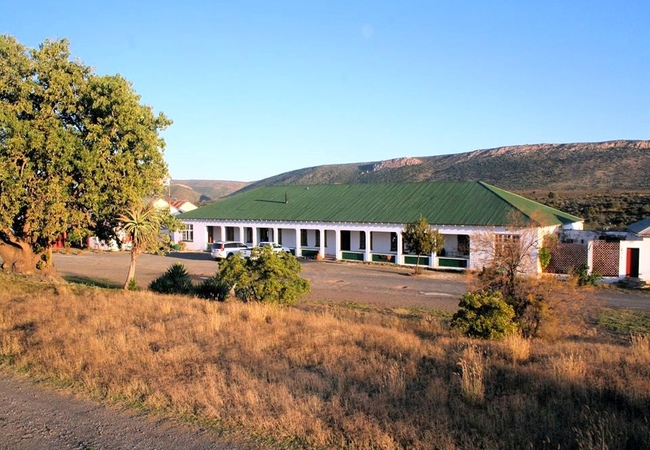 Hotel
Wolwefontein Hotel is one of the four remaining railway hotels in South Africa. The accommodation has been restored while preserving the history ...
Noteworthy attractions
Find accommodation in Wolwefontein
FIND / South Africa Accommodation / Eastern Cape Accommodation / Karoo Heartland Accommodation / Wolwefontein Accommodation
Wolwefontein as a destination