About Scar of Grootkloof
Mountain Zebra National Park lies in amongst the Bankberg Mountains and a series of undulating hills just outside Cradock in the Karoo.
Did you know?

This area receives 25% more rain than other more dry parts of the Karoo, mostly because of its proximity to mountains.
In 1974, just after a particularly heavy downfall of rain, when the rangers were setting the roads to rights along the Grootkloof area of the park, there was a sound like thunder rumbling, except that it sounded oddly off-key, not really like thunder at all. And it continued for about half an hour. The noises were such that people heard it in Cradock, 12 kilometres away.
On closer inspection the park discovered that a huge 22-ton dolerite rock had rolled down Bankberg Mountain, leaving a 250 metre-long scar on the landscape that is still visible today (you can hike the 10 km Idwala trail up to the Grootkloof scar).
The rock eventually came to rest at the foot of the mountain where it became known simply as the Big Rock, whilst the scar has been eroded by both wind and water over time to deepen into a visible scar; the scar of Grootkloof.
Need to Know
WhereScar of Grootkloof, Mountain Zebra National Park, Cradock, Karoo Heartland, Eastern Cape, South Arica
WhenBest during daylight hours.
OvernightStay in Cradock Accommodation, Eastern Cape
Disclaimer
Please note, business details can change. While we endeavour to ensure all information provided by the service provider is correct at the time of publication, we do not assume any liability caused by errors or changes, such as price, cost, time, and location. Please check with the provider that the activity/business is still offered as described, before making any travel plans.
Feedback?
If this is your attraction, you can let us know if anything on this page is outdated or contains inaccuracies, by email. We regret, we do not have any other information, please contact the provider if you have questions.
Additional Reading
You might also be interested in
Also See These Attractions
National Parks / Nature Reserves
The craggy heights of the Mountain Zebra National Park's Bankberg embrace rolling plains and deep valleys, and has become an entrancing preserve for the Cape mountain zebra. The proclamation of the park in 1937 saved these animals from extinction, and ...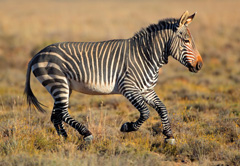 Nature Reserves / National Parks
The valuable grasslands between the Mountain Zebra National Park and the Camdeboo National Park are now formally protected by a partnership between the Wilderness Foundation and SANParks. Known as the Mountain Zebra Wilderness Corridor, the aim ...