Categories: Extreme Sports / Sports & Leisure
Price group: No price group allocated.
Available in the following region(s): West Rand
Address: Bugee Mogale Site, Krugersdorp, Gauteng
Telephone: 0861bungee or 0861 128-6344
Opening hours: Open to the public on weekends:
Saturdays from 11h00 to 17h00
Sundays from 11h00 to 17h00
Public Holidays 11h00 to 17h00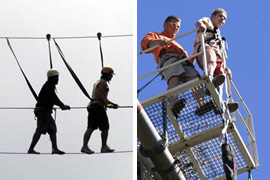 The Burma Bridge is a hanging bridge, consisting of a 4- cable system, 120m across the King's Kloof Valley and approximately 60m high above the ground. The Burma Bridge consists of a bottom cable, which you walk on; connected to two cables, which are "hand rails". Wearing a harness, which is connected to a cable above your head. Even the slightest breeze has you wobbling precariously over to the one side.

The famous words "don't look down" are totally negated here, as you have to concentrate on placing your feet neatly on the bottom cable, while staring wide-eyed down at the potential plunge. Even though you know that, you cannot fall because you are strapped in and connected to the top cable.
Why Not Overnight?
Find Accommodation in Krugersdorp
Bankenveld House is situated amongst the rocky outcrops of Krugersdorp, where Tienie and Karen Stander take pleasure in sharing their hospitality and ...
Located in a World Heritage Site - The Cradle of Humankind, our four-star lodge offers superlative hospitality in ancient surroundings. The Cradle ...
Related Pages
Travelling to Krugersdorp
• Things to Do in Krugersdorp
• Krugersdorp Attractions
• Krugersdorp Self Catering
• Gauteng Accommodation