Western Cape Maps
Map of Green Point, Western Cape
Green Point Map - Green Point detail and street level map showing the suburb of Green Point, some attractions including Green Point Stadium (2010 World Cup Stadium), location of the Metropolitan Golf Course and the suburbs location in relation to the V&A Waterfront and surrounding suburbs. To find out more about Green Point please visit Green Point Information.
If you are interested in overnighting in the area, we can recommend some great hotels, guest houses and self catering establishments. Find them at Green Point Accommodation. If you're only planning on driving through Green Point, en-route to another destination, you may want to peruse our Green Point Restaurants before you leave to see if you should plan a stop here for lunch or maybe just a coffee. Also check out Green Point Things To Do to see if there are any activities for which you would consider stopping.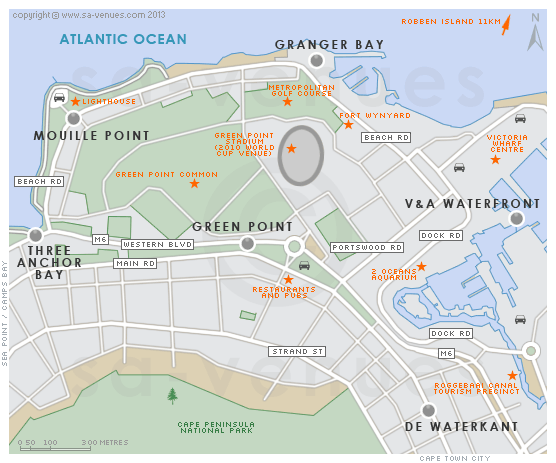 Related Links
Featured Attractions in (or near) Green Point

This is where the more fashionable set go to see and be seen. The Atlantic Seaboard, also known as Cape Town's "Riviera" stretches from the V&A Waterfront on the north shore of Table Mountain up as far as Hout Bay and is connected by one of the most picturesque, scenic drives along Victoria Road ... more information

Set in Cape Town's Green Point Urban Park, the Biodiversity Garden is an incredible space in which to immerse yourself in a selection of the unique flora indemic to Cape Town. It features no fewer than 300 local plant species, animal sculptures, interactive displays, demonstration gardens, a Khoikhoi display and ... more information

Contained in the New Somerset Hospital, the old city hospital for contagious diseases built by Sir George Grey the governor of the Cape in 1859 the Cape Medical Museum is a great visit if you are interested in the history of medicine, particularly as it emphasises both western and traditional medicine in the Cape. It lies ... more information

Home décor, art and artefacts, fashion, beauty, health and lifestyle related stores all delivered in a unique Cape Malay architecture. This is where the best of Cape Town people are drawn together, attracted by the authentic ambience of great restaurants and eateries, shops and offices. This is the ... more information

Green Point Market
The Green Point Market, held every Sunday in the car park outside the Green Point stadium, is one of the largest markets in Cape Town and well worth a visit. At the Green Point Market you will be well entertained with with music and crafts and loads of traditional African art pieces and curios are for sale.
The Green Point Stadium in Cape Town has been transformed into a completely new 70 000 seater, all-weather, multi-purpose, environmentally sustainable, modern, technologically advanced, world class Stadium giving expression to the "African Renaissance Stadium" at the juncture between Table Mountain ... more information

At Metropolitan Golf Club you enjoy your game in the most centrally situated green belt of Cape Town. Adjacent to the V&A Waterfront (5 minute walk) with magnificent views of Table Mountain and Signal Hill. The Metropolitan course is officially a 9 hole course but a variety of greens and tee's result in ... more information

For nearly 400 years, Robben Island, 12 kilometres from Cape Town, was a place of banishment, exile, isolation and imprisonment. It was here at Robben Island that rulers sent those regarded as political troublemakers, social outcasts and the unwanted of society. During the apartheid years Robben Island ... more information

Sea Point Promenade
The promenade runs the length of Sea Point's beachfront, from Bantry Bay to Mouille Point and is a hub of activity, particularly in the early morning or late afternoons to watch the sun set right next to the waters of the Atlantic. A number of children's parks run alongside the promenade and there is a ...

Signal Hill, which connects Kloof Nek to Lion's Head, in the distinctive shape of a lion's rump, is one of the most famous spots in Cape Town for sundowners. Views from the 350m high summit are nothing short of spectacular, particularly at night, and picnic dinners with accompanying drinks is something of a capital ... more information

Mouille Point's promenade has for years been the home of the delightful miniature Blue Train. Based in a popular picnic area, the Blue Train has entertained generations of Cape Town's children. The train is something of an icon, considering its 50 year existence, and its place on the extremely popular seven-kilometre ... more information

The Two Oceans Aquarium is without doubt one of the most exciting attractions in the city, particularly if you have children (there is a wonderful child play area in the basement set right up against the seal display where children and seals have fun alongside one another). Child-height window benches and ... more information
Related Links
On Holiday in Green Point
• About Green Point
• Green Point Accommodation
• Green Point Guest Houses
• Green Point Hotels
• Green Point Family-friendly
• Green Point - A Visitors Perspective
• Visitorial - I ♥ Green Point because…
• Western Cape Accommodation