Gauteng Game Reserves
Bronkhorstspruit Dam Nature Reserve, Gauteng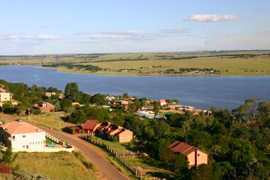 Lying about 90 kilometres from the centre of Johannesburg, Bronkhorstspruit Nature Reserve is situated on the southern edge of a large dam named after the town immediately north east of here, and known for its waterbirds. Infact birders head out this way often for the over 200 species of birds, and, in particular, the pink-billed lark, which avid birders rate as a luck sight should you manage to catch a glimpse.

Visitors from Johannesburg and Pretoria speak of the nature reserve as 'bronkies', which infers that there is a set of regular visitors to the dam. This assumption is supported by the number of boats, jet skis and fishermen, although some wind surfing also takes place and the odd kitesurfer ventures forth when the wind comes up. Sunsets here are a wonderful spectacle and make up for the fact that the immediate vicinity of the dam is a little short of trees.

The Bronkhorstspruit dam, as already mentioned, is a major draw card for anglers, especially for the bass that lurk in the thick grass that lines the banks of the Bronkhorstspruit Dam. There are a couple of resorts on and around the dam that provide those disinterested in fishing with swimming pools, restaurants and a place to camp, and the Transvaal Catamaran Club is a popular haunt for the few windsurfers.

If you are looking for more of a wilderness feeling, then head off for the SS Skosana Nature Reserve, a small but slightly out of the ordinary nature reserve just north of Bronkhorstspruit. Here unusual outcrops of granitic rock dominate the landscape whilst large antelope and a variety of bushveld birds can be seen. There are also guided walks with experienced game rangers on offer.
Bronkhorstspruit Dam Nature Reserve
Accommodation nearby
For accommodation in or near to the reserve, see:
• Bronkhorstspruit • Boekenhoutskloof • Centurion • Cullinan • Hennops River • Irene
• Pretoria • Rayton

Or to see all accommodation in the region, visit Northern Gauteng Accommodation.
Bronkhorstspruit Dam Nature Reserve
Featured Attractions / Activities

Where to stay: Accommodation in Bronkhorstspruit
How much (per person): Free to Browse
Anton Smit Sculpture Park is an incredibly fascinating and stunningly beautiful park to visit. Looking over the Bronkhorstspruit Dam, this t ... more information

Did you know?
Bronkhorstspruit Dam Nature Reserve is a haven for waterfowl and the surrounding grassland attracts a number of interesting grassland endemics. Over 200 bird species have been recorded. Visiting birders can expect to see some 70 species in a morning outing.