Cape Town & Western Cape Tourist Attractions
Groot Drakenstein Prison, Cape Winelands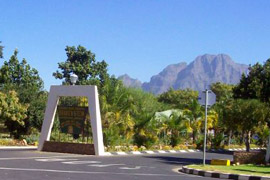 The Groot Drakenstein correctional facility (the former Victor Verster maximum security prison near Simondium, between Franschhoek and Paarl) is a working prison that was renamed in 2000.

It is on the map chiefly because this was the last place in which Nelson Mandela was incarcerated and it was through these gates, and not those of Pollsmoor in Cape Town or from Robben Island, that Mandela walked to freedom in 1990.

Surprisingly, the prison looks something like a boys' school rather than a security prison. And its surrounds - it lies in amongst grape vines and undulating hills - is equally incongruous. There is a legend that describes how prisoners from Groot Drakenstein managed to escape on foot - the journey took a week - through the valley and over the mountains to Cape Town.

A larger than life-size bronze statue of Mandela was recently unveiled at Groot Drakenstein Prison. It is a beautiful statue showing Mandela with raised fist - a well recognised gesture of defiance, usually accompanied by the freedom slogan - amandla awethu, isiZulu or power to the people.

Groot Drakenstein Prison is an isolated, out of the way place in which to place such a statue, but the location has been deliberately chosen to stand in the very place where Mandela took his first steps outside of the prison as a free man.

The statue was commissioned from South African artist Jean Doyle by Tokyo Sexwale, a well known businessman who himself spent 13 years on Robben Island. The statue is a tribute to every person who made sacrifices in the fight for freedom.
Groot Drakenstein Prison
Other Attractions / Activities nearby

Known simply as the Taal monument or Afrikaans language monument, the most famous Afrikaans icon, die Afrikaanse Taalmonument, sits on Paarl rock, erected in 1975 to commemorate the semi centenary of Afrikaans as an official language, separate from Dutch, overlooking the farmlands of Stellenbosch ... more information

The Drakenstein Lion Park is a Sanctuary for captive born predators. Drakenstein Lion Park was established in 1998 to provide lions in distress with sanctuary, where they could live in safety, free from abuse and persecution, and be treated with the compassion and respect they deserved. The Drakenstein ... more information
Groot Drakenstein Prison
Accommodation nearby
For accommodation nearby see:
• Franschhoek accommodation • Groot Drakenstein accommodation • Paarl accommodation
• Pniel accommodation • Simondium accommodation • Stellenbosch accommodation
• Tulbagh accommodation • Wellington accommodation

Or to see all options in this region, visit accommodation in Cape Winelands.

destinations / attractions in the western cape