KwaZulu Natal Tourist Attractions
International Convention Centre Durban, Durban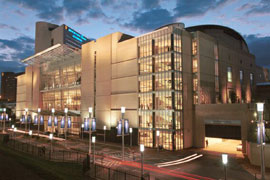 ICC Durban has been voted Africa's Leading Conference Centre for six consecutive years by World Travel Awards and in 2004 was also ranked as one of the top ten conference centres in the world by AIPC. Its proven track record is unrivalled in Africa.

A focal point of the Durban Central business district, the International Convention Centre Durban is a functional space in an aesthetic environment. Centrally located and just a quarter of an hour from the airport, Durban's International Convention Centre is just minutes from hotels and beaches. Palm trees form a welcoming avenue while at the entrance to the centre three baobabs, Africa's tree giants, bid a regal greeting.

Durban's International Convention Centre is a purpose-built, fully air-conditioned centre with three convention halls that are interlinked but separate. Moveable walls allow for a number of different venue configurations. Alternatively the halls can be opened up to form one large venue with seating for 5000 delegates or 7000 m² of column free floor space.

Together with its sister venue, the Durban Exhibition Centre, the International Convention Centre can double its capacity to accommodate 10 000 conference delegates. The centres can function independently or as two halves of one whole. This is achieved by closing Walnut Road, a brick-paved concourse between the two centres, to provide easy access for delegates.
International Convention Centre Durban
Accommodation nearby
For accommodation nearby see:
• Durban Central • Durban Central Hotels
• Durban Beachfront • Durban Beachfront Hotels
• Morningside • Morningside Hotels

Or to see all accommodation in this region, visit Durban or Durban Hotels.
Related Links
Attractions / Activities nearby

Durban Beaches
Durban's beaches are characterised by soft, golden sand, palm trees and the warm waters of the Indian Ocean. The main beaches are shark netted and patrolled from sunrise to sunset by trained lifeguards who have an impressive track record in beach safety. The main beaches also have changing ...

The Durban Country Club boasts 2 championship course; namely the Durban Country club course and the Durban Country Club Beachwood Course. Opened in 1922, the Durban Country Club is said to be one of the best golf courses in South Africa and is acknowledged to have the best third ... more information

uShaka Marine World in Durban is a world-class entertainment and tourism destination. At the end of Durban's Golden Mile is the beginning of uShaka Marine World - spanning over 15 hectares of prime beach front, uShaka Marine World is Africa's largest Marine Theme park. uShaka incorporates fresh and sea ... more information

destinations / attractions in kwazulu natal