KwaZulu Natal Tourist Attractions
Gateway Theatre of Shopping, Durban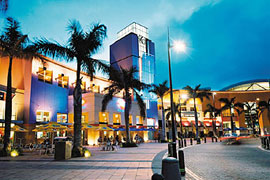 Gateway Theatre of Shopping is one of Africa's largest super regional retail destinations. Features: Barnyard Theatre, Ster Kinekor cinema, Cinema Nouveau, IMAX, rock climbing wall, artificial waves, skateboard park, Woolworths, Edgars, Truworths, Game, Exclusive Books, Musica, over 30 restaurants and more.

Centre Trading Hours: Mondy to Thursday: 9am - 7pm. Friday and Saturday: 9am - 9pm; Sundays and Public Holidays: 9am - 6pm.

Family rooms are available at all the public toilets. Parents can make use of these special facilities to feed babies and change nappies, in private. To ensure general safety, all cubicles have been installed with panic buttons, which is directly linked to the security control room.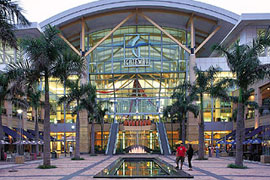 A fire marshal patrols Gateway 24-hours a day to ensure that shopkeepers and customers adhere to all fire regulations. Gateway is adjacent to the Umhlanga Hospital and has immediate support from and access to their 24-hour emergency services. Gateway has its own, 24 hour, on-site paramedic and sick bay/recovery room and own Emergency Reaction Vehicle. This Emergency Response Unit will also assist you in any other type of situation such as flat car batteries, tires and keys locked in vehicles.
Manual Wheelchairs:
Wheelchairs can be obtained from the Customer Service Desk on the Ground Floor of the center. They can also be booked in advance by contacting the center. There are no fees involved however, your identification document will have to be handed in as security.
Valet Parking in the Palm Boulevard:
You deserve to be treated like as celebrity guest at Gateway. Valet parking is available in the Palm Boulevard at a nominal fee. Hand your car over to the professional valet parking staff who will ensure that it is safely parked in one of the undercover parkades at the center, call the special valet parking telephone number when you are on your way again and your car will be waiting for you.
Contact Details:
Telephone:
+27 (0)31 566-2332
Address:
No. 1 Palm Boulevard, Umhlanga Ridge, Durban
Web Site:
http://www.gatewayworld.co.za/
Gateway Theatre of Shopping
Accommodation nearby
For accommodation nearby see:
• Berea • Bluff • Bothas Hill • Brighton Beach • Cowies Hill • Durban Beachfront
• Durban Central • Durban North • Gillitts • Glenashley • Glenmore • Glenwood • Hillcrest
• Kloof • Morningside • Musgrave • Pinetown • Umhlanga Ridge • Umhlanga • Westville

Or to see all accommodation in this region, visit Accommodation in Durban or Hotels in Durban.
Related Links
Attractions / Activities nearby

A focal point of Durban's Central business district, the International Convention Centre Durban is a functional space in an aesthetic environment. Centrally located and just a quarter of an hour from the airport, Durban's International Convention Centre is just minutes from hotels and beaches. Palm trees ... more information
Designed and built in an old quarry site on the banks of the Umgeni River, just 10 minutes outside Durban, the Umgeni River Bird Park is one of the greatest attractions of the city. Walk-through aviaries, birds out on perches, wonderful green vegetation, some amazing waterfalls and rock faces all combine to ... more information

The Sharks Board gives the opportunity to watch a spectacular 30 minute audio-visual presentation which captures the drama of the ocean as they carry out their daily servicing of shark nets, or watch a shark dissection. You can also visit the display hall and view a variety of lifelike replicas of sharks, fish and rays. more information

destinations / attractions in kwazulu natal