KwaZulu Natal Tourist Attractions
Durban Botanical Gardens, Durban
Durban's Botanical Gardens on the eastern slopes of the Berea ridge that began as a site for growing experimental tropical crops, today offer a herbarium, an orchid house, a Cycad collection, a garden for the blind and a charity tea garden.

The Durban Botanical Gardens are famous for the original specimen of a Cycad (Encephalartos woodii) that is still widely acknowledged as probably the rarest plant in the world, as well as for its extensive collection of South African Cycad species. A highlight of the Gardens is the Orchid House which is named after Ernest Thorp, who was resonsible for building it up to its position of world renown as the first "naturalistic" Orchid display house. The Orchid House is at its best during the spring months and is open daily from 09h30 am to 17h00.

The Botanical Research Unit, incorporating the Natal Herbarium is at the corner of St. Thomas Road and Botanical Gardens Road. The major aims of the unit are the provision of an information service regarding identification of the indigenous flora of KwaZulu Natal and continuing research into the flora of South Africa with the aim of compiling an authoritative study of its findings.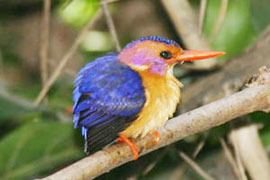 The Natal Herbarium contains an impressive collection of over 100,000 specimens of dried, pressed and catalogued plants, most of which originate in KwaZulu Natal. The charity tea garden offers teas and light refreshments from 09h30 am to 16h15 daily. Of note, there is also a garden for the blind.
The Durban Botanical Gardens car park is in Sydenham Road, and the gardens are fairly easily accessible from the centre of town. Guided tours are offered every month but must be booked well in advance to avoid dissapointment. For your safety and assistance there are Park Rangers on duty between the following times: 09h00 - 18h00 Daily and security guards on 24 hour duty, and car guards in the car park area:08h00 - 17h00 Daily.
Contact Details and Opening Hours:
Address:
70 St Thomas Road, Durban
Telephone for Tour Bookings:
+27 (0)31 201-1303 or 309-1170
Gardens:
07h30-17h15 16 April - 15 Sept), 07h30-17h45 (16 Sept - 15 April)
Information Centre:
Hours 9h00 - 16h30 (Closed Good Friday and Christmas Day)
Orchid house:
Daily Hours 09h30 - 17h00
Tea Garden:
Refreshments from 09h30-16h15 (Closed Good Friday and Christmas Day).
Durban Botanical Gardens
Accommodation nearby
For accommodation nearby see:
• Berea • Bluff • Bothas Hill • Brighton Beach • Cowies Hill • Durban Beachfront
• Durban Central • Durban North • Gillitts • Glenashley • Glenmore • Glenwood
• Hillcrest • Kloof • Morningside • Musgrave • Pinetown • Sydenham
• Umhlanga • Westville • Yellowwood Park

Or to see all accommodation in this region, visit Durban or Durban Hotels.
Related Links
Attractions / Activities nearby

A focal point of Durban's Central business district, the International Convention Centre Durban is a functional space in an aesthetic environment. Centrally located and just a quarter of an hour from the airport, Durban's International Convention Centre is just minutes from hotels and beaches. Palm trees ... more information
Designed and built in an old quarry site on the banks of the Umgeni River, just 10 minutes outside Durban, the Umgeni River Bird Park is one of the greatest attractions of the city. Walk-through aviaries, birds out on perches, wonderful green vegetation, some amazing waterfalls and rock faces all combine to ... more information

uShaka Marine World in Durban is a world-class entertainment and tourism destination. At the end of Durban's Golden Mile is the beginning of uShaka Marine World - spanning over 15 hectares of prime beach front, uShaka Marine World is Africa's largest Marine Theme park. uShaka incorporates fresh and sea ... more information

destinations / attractions in kwazulu natal