Things To Do in Muizenberg

The Melting Pot

Where? 15 Church Street, Muizenberg, False Bay Coast, Cape Town

When? Every Wednesday from 19h00.

How? Call +27 (0)21 788-9791

How much? Price on request

Overnight? Stay at accommodation in Muizenberg, in Western Cape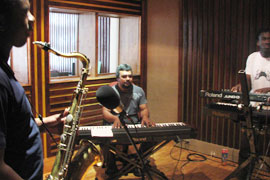 Tucked away inside the heart of Muizenberg Village, The Melting Pot is a tiny, unpretentious live music venue that has played host to some of the biggest talents in South Africa at one time or another. The emphasis is on open-mic nights, discovering new talent and exposing the public to new and wonderful sounds.
The setting is a cosy, colourful and vibrant, where locals come together to enjoy real music, from jazz and folk, through to rock; from solo artists to full jazz outfits. The Melting Pot also often hosts visiting musicians and bands, as well as stand-up comedy. Jam sessions and open mics offer up-and-coming talent an outlet too.
Grab a bite to eat along the Muizenberg beachfront beforehand, and head over to this bustling little music venue. Remember to add this to your list if you are staying in the Southern Peninsula. It has a real local flavour - and you might experience the discovery of a new South African talent.