Itís evident, even at a glance, that Muizenberg Station is a grand building. But it is its clock tower that is particularly unique, made as it is from teak. It is not the oldest building in Muizenberg - that ...
It is not often that such a large nature reserve occurs amidst an area dense in residential suburbs. Zandvlei Estuary Nature Reserve, which borders Lakeside, Marina da Gama, Muizenberg and Steenberg is very ...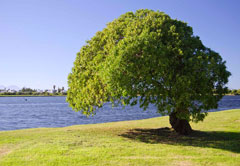 The Zandvlei Recreational Park is an open water wetland that is bordered by the suburbs of Lakeside and Muizenberg. It includes rivers and an estuary, which make for very pretty surrounds. These backdrops ...