Things To Do in Sun City

Valley of The Waves

Beaches & Pools Family Entertainment Sports & Leisure Bojanala Region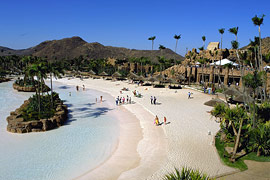 Overnight visitors to any of the hotels at the Sun City Resort have free access to the Valley of the Waves. This is the most advanced water park in South Africa.
A large lagoon dominates the scene with a wave machine capable of generating 1.8 metre waves every 90 seconds. This water park has five exhilarating flume rides. From the aptly names Temple of Courage swimmers drop a heart stopping 17 metres down a chute and under a bridge before splashing into a small pool at the foot of the slide.
For the less adventurous visitor to the Sun City Resort why not take a ride on the 'Lazy River'.