Things To Do in Sun City

Go Gambling at Sun City

Casinos & Gaming Wheelchair Friendly Bojanala Region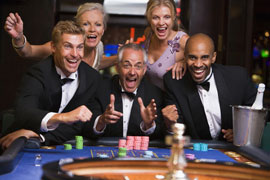 The Sun City Casino, situated in the Sun City Hotel, is open 365 days of the year. The tables open for play at 13h00 (midweek) and 11h00 (weekends) until close in the early hours of the following morning. The dress code in the casino is smart-casual.
Try your luck at, American Roulette, Blackjack, Stud Poker and Punto Banco. The concepts behind these games are very simple and once grasped open up new dimensions of excitement and entertainment.