Things To Do in Magoebaskloof

Magoebaskloof Mountain Bike Trails

Where? Cheerio Trout Fishing & Holiday Resort, Cheerio Farm L4.1 Road (off R71), Magoebaskloof, Limpopo.
When? Please enquire.
How much? Price on request
Overnight? Stay at accommodation in Magoebaskloof, in Limpopo
Explore the established mountain bike routes, which can also be used for hiking, between the various tourism establishments in the area. This is an innitative from Tourism Magoebaskloof.
Visitors to the area will be able to pick up a route from any participating establishment or a hub such as Cheerio Gardens / Stanford Lake College. The establishment owners share the responsibility for maintaining routes and ensuring that signage is visible and appropriate.
The trails consist of some single track through forests and/or open farm land, existing farm roads and paths, fire boundaries and public country (sand) roads. To create the optimum linkage, the routes also traverse commercial timber growers' properties.
Presently there are 4 trails, but these will be added to on a regular and planned basis. The current routes are as follows:
Cheerio / Sequoia (Orange):
This 5km route is suitable for families. It passes through the pine plantations, avo orchards and the beautiful gardens of Cheerio and Sequoia along grass paths and roads. The climb to the top of the hill is made worth the effort by the spectacular views of the Wolkberg and Cheerio Valley. It can be accessed from Cheerio Trout Fishing & Holiday Resort, Sequoia and Cheerio Gardens.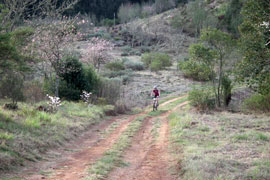 Stanford Lake / Ebenezer Dam (Blue):
This 5.3km route is suitable for families with young children. It follows the edge of Stanford Lake and Ebenezer Dam on well used roads and is fairly flat. It can be extended by 3km by following the road along Ebenezer dam further and returning the same way. It can be accessed from
Stanford Lake Lodge
.
Magoebaskloof Adventures (Black):
This 10km route is for very experienced mountain bikers. 5km of technical single track hug the contours of the Letaba Gorge through riverine forest. A steep climb gives spectacular views of Georges Valley before a steep descent back to the start. It can be accessed from Magoebaskloof Adventures.
Cheerio / Sequoia / Bramasole / Stanford Lake College (Green):
This 25km route is suitable for experienced riders and weekend warriors who want to test their strength and stamina. It follows roads through plantations, gardens and natural forest, passed secluded dams and babbling streams. The climbs are steep and long but the views from the top over the Ebenezer dam towards the Wolkberg make it all worthwhile. It can be accessed from Cheerio Gardens, Cheerio Trout Lodge, Sequoia, Bramasole, Zwakala and Magoebaskloof Hotel.
Maps of the routes will also be available.
Please Note
Business details can change. All information is published in good faith as supplied by the providers. Please check with the provider that the activity/business is still offered as described above, before making any travel plans.