You will find Coleford Nature Reserve near to the town of Underberg, south east of the uKhahlamba Drakensberg Park. Through its southern section flows the Ngwagwane River, one of its major features. But it ...
The heart of the Lower Drakensberg Foothills Birding Route lies in the lowlands below Sani Pass filled with nature reserves and huge tracts of mist belt forest and grassland alive with birds.. The Lower ...
Glengarry Golf Course is tucked away in the Drakensberg, truly a golfers delight. Glengarry is the only 18 hole golf course in the Southern Berg, situated in a World Heritage site. The spectacular setting of ...
A little west of the twin villages of Himeville and Underberg, on the border with Lesotho, lies the southernmost part of the Drakensberg and the Mzimkhulu Wilderness Area. Whilst the basalt rock formations ...
Ntsikeni Nature Reserve consists of a rather inaccessible vlei lying high on a plateau between Franklin and Creighton, in a section of East Griqualand, in the southern reaches of KwaZulu-Natal. This largely ...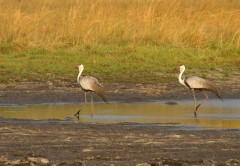 Lying really close to Pevensey in the southern reaches of the Drakensberg, the Swamp Nature Reserve is situated almost due west of Garden Castle Nature Reserve and, as its name suggests, it protects a huge ...
The mistbelt forest known as Gqumeni, or Xumeni Forest, is a patch of afromontane forest 2 km west of Donnybrook in the Underberg. Gqumeni is exceptional not only for its beauty but also because it has ...