The Amalinda Nature Reserve is situated less than 10 kilometres from the ever-growing city hub of East London in the Eastern Cape. Established in 1968, this reserve measures 134 hectares and boasts some of the ...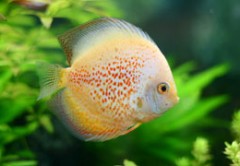 Opened in December 1931, the aquarium is the oldest in South Africa. More than 400 species of fish, penguins and seals can be seen. Make sure you make it in time to see the seal show. The display of Cape Pigmy ...
Think warm Indian Ocean waters and sub-tropical weather that allow visitors to enjoy the climate all year round - East London basks gloriously between the Nahoon River in the north and the Buffalo River to the ...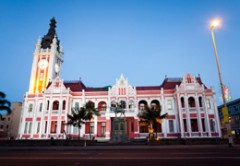 The foundation stone of the stately East London City Halll was laid in 1897. The clock tower commemorates the diamond jubilee of Queen Victoria. Built in the Victorian Renaissance style, the marble for the ...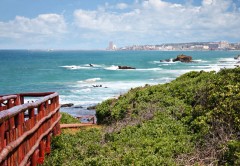 The East London Coast Nature Reserve is a gorgeous stretch of coast that extends from the Great Kei River in the north east all the way to the Tylomnqa River in the south west. Between these two bodies of ...
The East London Golf Club, skilfully fashioned out of dense coastal bush, hills and dunes, just a few metres away from the warm water of the Indian Ocean, has hosted six South African Opens, which confirms the ...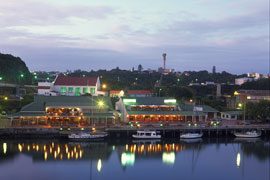 Also known as the Port of East London, the East London Harbour is significant for many reasons, not least of all its being the only commercial river port in South Africa. It is situated at the beautiful ...
The East London Museum has the world's only dodo egg, a large natural science collection, collections ranging from the prehistoric times of South Africa to the early history of the Xhosa people. The Museum has ...
Dubbed one of the most scenic coastal reserves in the country, the Nahoon Point Nature Reserve in East London is a South African gem. But, it is not only for this its extraordinary natural beauty and ...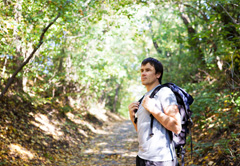 The Umtiza Nature Reserve is a forest reserve on the Buffalo Pass. It lies alongside the bell-shape of the Buffalo River as it sweeps away to follow the course of the pass road, before curving south to run ...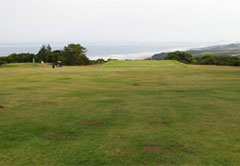 The West Bank Golf Club, which celebrated its centenary in October 2007, has an 18 hole golf course rated as Number 93 in South Africa. Enjoy lovely views of the sea from every tee when playing the 18-hole ...