Monzi, Zululand
The major attraction to staying in Monzi is its proximity to the iSimangaliso Wetland Park World Heritage Site (formerly known as the Greater St Lucia Wetlands Park), but more commonly known simply as St Lucia. Monzi lies virtually 15 kilometres outside of this beautiful body of nature reserve, a wee farming community spoken about in descriptive terms like 'sleepy hollow' and 'restful haven', close to Mtubatuba.
In actuality, there isn't much here, other than the Monzi Golf Course, a smattering of homes, the Monzi Village (a secure, townhouse complex) and a few essential trading stores. Most of the area around Monzi is farmland and it is particularly scenic because of the lack of development.
From Monzi you can reach the little village of St Lucia, beaches, the entrance point to Cape Vidal and numerous game farms, notably the iMfolozi/Hluhluwe Game Reserve. Whilst you might be in the middle of nowhere, the access to nature at her best is undeniable.
Cape Vidal lies in the more northern reaches of the iSimangaliso Wetland Park, and a stay at Monzi allows you to head up here on a day trip - well worth it for the quality of the snorkelling you can do in the bay. It is also relatively safe to swim here and the wildlife, particularly the birds in the surrounding wetlands, is awe inspiring. Book ahead and take a guided trail of the area.
If you can, head even higher up to Kosi Bay. There is a hiking trail here that takes one through mangrove forests, along the beach and through grassland, which is incredibly beautiful. There are also horse trails and the possibility of sighting dolphins and whales. With so much on the doorstep of Monzi, it is well worth a stay.
Travellers' Reviews
1 Review from SA-Venues.com travellers. All reviews are verified.
Monzi is a good place to stay if you're looking for a place that is close to a number of the local attractions. But, don't expect much from Monzi itself - it's just a small, quiet village.
Omane (Grahamstown)
In the vicinity
Hotels & other accommodation options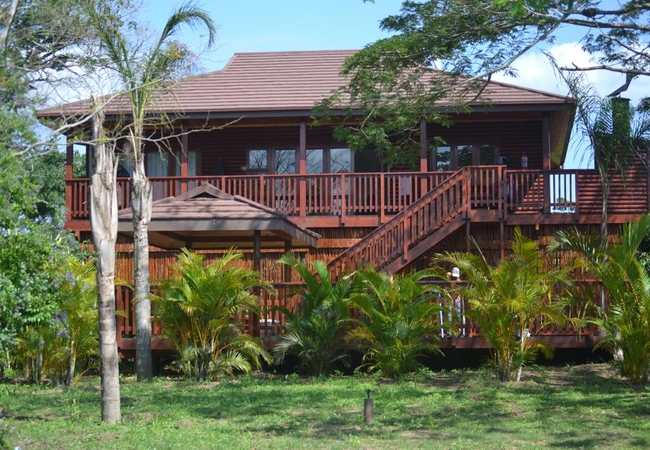 Self Catering
Monzi Safari Lodge is situated 20km outside of St Lucia inside the secure village of Monzi. This security complex has an abundance of bird life a...
Self Catering
Hillhouse Farm House is set on eight hectares up on a hill overlooking the beautiful sugar cane farms in Monzi. We are 10 minute drive to St. Luc...
Noteworthy attractions
Find accommodation in Monzi
FIND / South Africa Accommodation / KwaZulu Natal Accommodation / Zululand Accommodation / Monzi Accommodation
Monzi as a destination