Gauteng Things To Do
Bungee Mogale (Krugersdorp)
Categories: Extreme Sports
Price group: R201 to R500 per person (see other things to do in this price group)
Available in the following region(s): West Rand
Stay Overnight: See Krugersdorp accommodation, in Gauteng
Address: Krugersdorp, Gauteng
Telephone: 0861bungee or 0861 128-6344
Opening hours: Saturdays / Sundays and Public Holidays: 11h00 - 17h00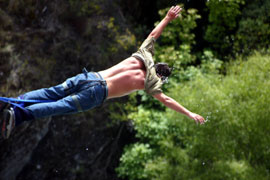 50 meters of pure adrenaline rush! The bungee jump operates off the Kings Kloof Bridge in Krugersdorp Mogale City. Challenge the limits of the mind and test the edge of fear by leaping off the impressive bridge.

Note
Minimum weight of 40 kg,
maximum weight of 125 kg
Jumps Available
• Forward Dive
• Backward Dives
• Waist Jumps

Bungee Mogale operates in Gauteng, Krugersdorp. The site is a veritable one-stop adventure site. Besides bungee jumping you will find a bridge swing, 320 m foofie slide, adventure circuit, restaurant and bar.
Website:
http://www.bungeemogale.co.za/
Why Not Overnight?
Find Accommodation in Krugersdorp
Located in a World Heritage Site - The Cradle of Humankind, our four-star lodge offers superlative hospitality in ancient surroundings. The Cradle Lodge has six luxury rooms, each with en suite bathrooms and private lounge areas. Each suite has its own private lounge ...
At Monte Vista we know that when it comes to special ingredients for your event it's all about great food, good music and awesome company. Our skilled and creative team will make your day an unforgettable one. Monte Vista has a wide variety of products and services to choose from, where the ...
Related Pages
Travelling to Krugersdorp
• Krugersdorp Accommodation
• Krugersdorp Attractions
• Krugersdorp Guest Houses
• Bungee Jumping in South Africa