Things To Do in Krugersdorp

Bungee Mogale

Where? Krugersdorp, Gauteng

When? Saturdays / Sundays and Public Holidays: 11h00 - 17h00

How? Call 0861bungee or 0861 128-6344

How much? Falls into price group R201 to R500 per person. Confirm with the provider.

Overnight? Stay in Krugersdorp, in Gauteng

More? See website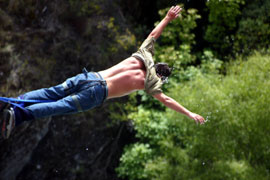 50 meters of pure adrenaline rush! The bungee jump operates off the Kings Kloof Bridge in Krugersdorp Mogale City. Challenge the limits of the mind and test the edge of fear by leaping off the impressive bridge.
Note
Minimum weight of 40 kg,
maximum weight of 125 kg
Jumps Available
• Forward Dive
• Backward Dives
• Waist Jumps
Bungee Mogale operates in Gauteng, Krugersdorp. The site is a veritable one-stop adventure site. Besides bungee jumping you will find a bridge swing, 320 m foofie slide, adventure circuit, restaurant and bar.