Gauteng Destinations
Leeuwkloof Valley, Northern Gauteng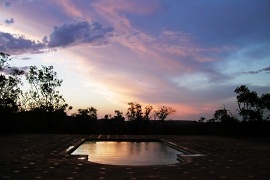 Once you've booked your Leeuwkloof Valley accommodation explore our pages for info on attractions and what to do in Leeuwkloof Valley.

Lying with Dinokeng, right on the doorstep of the two large cities of Johannesburg and Pretoria is the Leeuwkloof Valley, home to the Leeuwkloof Valley Conservancy and a number of private lodges, spas and weekend retreats.

What makes the valley such an ideal getaway is that just 90 minutes from city stresses is bushveld, peace and quiet married with nature reserve and space - a much sought after combination for the city dweller.
Get the Scoop
Leeuwkloof Valley Reviews
Related Links
Featured Attractions in (or near) Leeuwkloof Valley

Just north-east of urban Joburg and Tshwane lies the vibrant and warm, big-sky region of Dinokeng, where the world's largest diamond was discovered. Today the area is sparkling with natural, cultural and historical attractions, a place where South Africans and their visitors enjoy the ... more information
The Leeuwkloof Valley Conservancy, a 400 hectare game reserve, is situated 1 hour from Johannesburg and 30 minutes from Pretoria. In the heart of Gauteng, Dinokeng 'a place of rivers', is Leeukloof Valley with wildlife roaming in a 400 hectare game reserve. Game at Leeuwkloof includes over 240 grazers... more information
Related Links
On Holiday in Leeuwkloof Valley
• Leeuwkloof Valley Accommodation
• Leeuwkloof Valley Guest Houses
• Northern Gauteng Accommodation
• Northern Gauteng Hotels
• Gauteng Accommodation