Eating Out in Newlands

The Garden Lounge at The Vineyard

Cafés & Eateries Southern Suburbs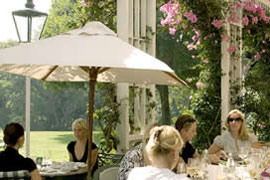 Enjoy the tranquility of the garden patio enveloped in this stunning natural setting or relax in the quiet ambience of Vineyard Hotel & Spa's spacious Garden Lounge.
The stunning mountain views, the wonderful landscaped gardens and the song of the many varieties of Cape birds that can be found in the vineyard's garden are just a few of the pleasures to be enjoyed while contemplating an utterly delicious garden lounge menu offering light lunch meals.
A selection of Sushi from our Sushi menu is a popular choice for lunch while our Lady Anne's afternoon tea is a special treat! This unobtrusive, casual and yet professional approach to dining remains the signature of the Vineyard Hotel & Spa.