Things To Do in Milnerton

Formula 1 Racing at Killarney Race Track

Where? Killarney Race Track, Milnerton, Cape Town.

When? Booking Hours: Monday to Friday from 09h00 to 17h00. Racing by arrangement.

How? Call +27 (0)21 422-3651

How much? Price on request

Overnight? Stay at accommodation in Milnerton, in Western Cape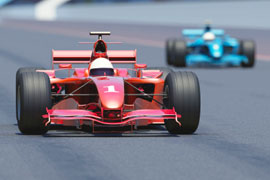 Get your adrenalin pumping as you whizz round Killarney's race track in a Formula One car armed with same day training experience and a desire to dice Michael Schumacher.
This half day experience builds on a history of speeding fines in 'your' world class single seater racer complete with your name and nationality blazing down the side of your cars (even cooler than a personalised number plate!). The experience starts with a tour of the track by an in-house expert driver and a comprehensive course in driver training and safety. Practise laps, strategies.....and they're off ... Vroooooommmmmm!