Things To Do in Bonnievale

De Ouwe Werf Market

Craft & Flea Markets Family Entertainment Wheelchair Friendly Breede River Valley

Where? Main Road, Bonnievale, Breede River Valley.

When? Every Saturday from 09h00 to 13h00.

How? Call +27 (0)82 908-6028

How much? Free to browse

Overnight? Stay at accommodation in Bonnievale, in Western Cape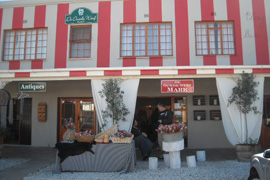 Visit the weekly market at De Ouwe Werf in Bonnievale and stock up on fresh products, freshly baked breads, rolls and pastries. Join the locals for coffee and browse the antiques, gifts, ar and local hand-crafts.
Bring the family for the freshest coffee and breakfast and enjoy the warm hospitality of the people of Bonnievale.