Please Note
We do not currently recommend this activity/business. This may be due to business closure, a pending update or temporary suspension.
About Shop for Toys at The African Toy Shop
We no longer recommend this venue.
Art takes the form of toys at The African Toy Shop where playful treasures are gathered from magical craftsmen hidden across the African continent. In Africa it takes a village to raise a child and the children play with wood brought to life with village toymaker's imaginations.
Some of the African countries are the poorest in the world but rich in creativity crafting hand-made toys for generations with only basic tools using pieces from the natural environment and recycled materials. These exquisite toys made by African toymakers, in Africa, with pieces of Africa for African children are now available to the Western World. The toys are labours of love taking one toy master and two apprentices a full weeks work to produce an outstanding wooden construction vehicle toy with wood friction utilised to replicate the hydraulic lifts.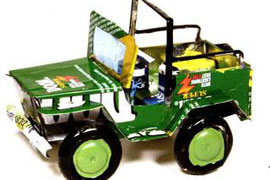 Skilled craftsmen from Angola, Congo, Kenya, Malawi, Mozambique, South Africa and Tanzania present polished toy pieces with beautiful details. African woman craft mini replicas of their everyday life and dress in the form of dolls. Second hand comics circulated amongst the African towns inspired cartoon toy creations.
Noah's arc and all the creatures are carved in excellence. Mini HIV clinics, wicker toy 4x4's, wire helicopters and tin friends are part of the collection. Fair Trade practices ensure that the communities have been uplifted and that sustainable business practices have encouraged with toymakers being able to afford homes for their families for the first time thanks to the program.