Eating Out in Hillcrest

Second Treasures Décor

Cafés & Eateries Miscellaneous Durban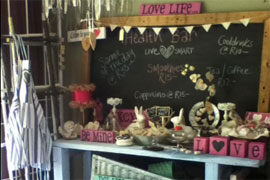 Take a visit to the Second Treasures Décor and you will find beautiful décor products to fill your home created from old and recycled items.
Second Treasures embraces the trend of eco-chic living ensuring that nothing goes to waste and natural resources are maximised.
Our staf consist of sole breadwinners in thier family who we are teaching ethics and business skills. We have a wood craftsman, 3 wire workers, a zulu lady and a gentleman that makes everything and helps with all projects. The staff are friendly, service is excellent and the craftsmanship is outstanding. There are many interesteing treasures availalbe for purchase and it is certainly worth a visit to admire the work being done here.