KwaZulu Natal Maps
Map of Greater Durban, KwaZulu Natal
Durban Map - Map showing Greater Durban Metro Area of KwaZulu Natal. The Durban Metro offers a diverse and interesting collection of things to do and attractions in and around the third largest city in South Africa, with a climate that arguably places it in top position for all year-round accessibility. For additional info visit Durban Information.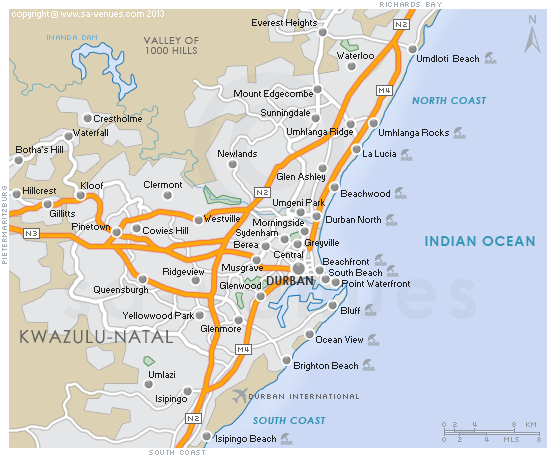 Related Links
Featured Attractions in (or near) Durban

The Durban Botanical Gardens are famous for the original specimen of a Cycad (Encephalartos woodii) that is still widely acknowledged as probably the rarest plant in the world, as well as for its extensive collection of South African Cycad species. A highlight of the Gardens is the Orchid House which ... more information

uShaka Marine World in Durban is a world-class entertainment and tourism destination. At the end of Durban's Golden Mile is the beginning of uShaka Marine World - spanning over 15 hectares of prime beach front, uShaka Marine World is Africa's largest Marine Theme park. uShaka incorporates fresh and sea ... more information

Durban Beaches
Durban's beaches are characterised by soft, golden sand, palm trees and the warm waters of the Indian Ocean. The main beaches are shark netted and patrolled from sunrise to sunset by trained lifeguards who have an impressive track record in beach safety. The main beaches also have changing ...
Related Links
On Holiday in Durban
• About Durban
• Durban Guest Houses
• Durban Bed & Breakfast
• Durban Self Catering
• Durban Accommodation
• Durban Hotels
• KwaZulu Natal Accommodation