KwaZulu Natal Maps
Map of Drakensberg, KwaZulu Natal
Drakensberg Map - Map showing the Drakensberg of KwaZulu Natal and the location of the major attractions including Royal Natal National Park and the Reserves of the Drakensberg. The uKhahlamba Drakensberg (a World Heritage Site) is an awe-inspiring and truly magnificent range of mountains, the majority of which lie in KwaZulu Natal and stretch well over 200 kilometres forming a natural border between Lesotho and KwaZulu Natal, known simply as 'the dragon mountain' or Drakensberg. For additional info visit Drakensberg Information.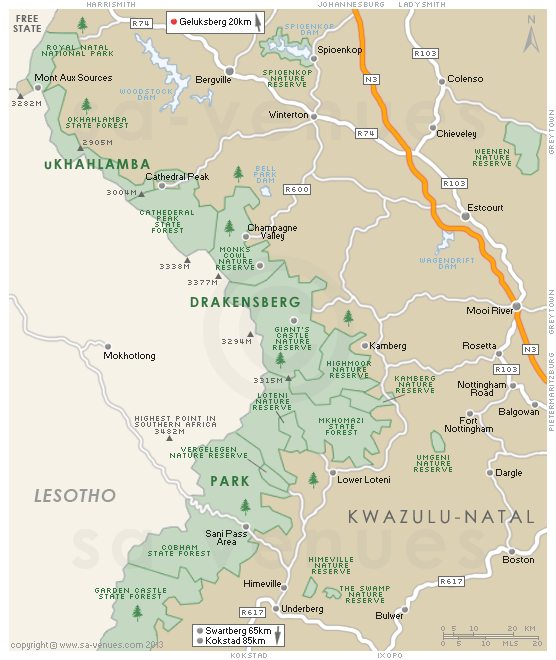 Related Links
Featured Attractions in (or near) Drakensberg

The Royal Natal National Park was proclaimed in 1916, and contains some of the most spectacular scenery in South Africa. The main feature of Royal Natal is the Amphitheatre, a rock wall about 5km in length, and approximately 1000m in height between the Sentinel (3 165m) and Eastern Buttress ... more information

Lying virtually at the foot of the rugged Spioenkop Mountain, the dam was the site of one of the most bloody battles to ensue during the Anglo-Boer War in an attempt to lift the Siege of Ladysmith, Spioenkop Dam Nature Reserve is 4 400 hectares of thorn savannah that contrast magnificently with the ... more information

The Ukhahlamba Drakensberg Park has exceptional natural beauty in its soaring basaltic buttresses, incisive dramatic cutbacks, and golden sandstone ramparts. Rolling high altitude grasslands, the pristine steep sided river valleys and rocky gorges also contribute to the beauty of this world heritage site ... more information

The Cathedral Range, with its numerous free standing peaks and magnificent mountain scenery, is one of the most favoured parts of the Berg for backpacking and rock climbing. Bordered in the north and north-west by the Upper Tugela Location and in the south by the Mdedelelo Wilderness, the area is ... more information

Historic Giant's Castle Game Reserve, home of the eland and the majestic bearded vulture, lies in the Central Drakensberg region of the Ukhahlamba Drakensberg Park, a World Heritage Site. Giant's Castle camp is situated on a gassy plateau among the deep valleys running down from the face of the ... more information

The Amphitheatre
This sheer, four-kilometre-wide basalt cliff face, The Amphitheatre, is flanked by the Sentinel and the Eastern Buttress and is one of South Africa Drakensberg's most distinctive scenic attractions. The Tugela River plunges over the edge and plummets 2000 m in a series of sheer falls.
Related Links
On Holiday in Drakensberg
• About Drakensberg
• Drakensberg Guest Houses
• Drakensberg Bed & Breakfast
• Drakensberg Self Catering
• Drakensberg Accommodation
• Drakensberg Hotels
• KwaZulu Natal Accommodation