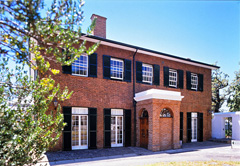 One of the Iziko stable of museums, Bertram House is the only remaining red brick Georgian style house in Cape Town. Originally built as a residence, the building became a museum when it was restored in 1984. ...
Cape Town's East City is known, interchangeably, as the East City, the East City Precinct, and the fringe. Others, still, know it as lower Gardens. But this part of the Mother City's central city is in the ...
Also known as Nokuphila, which means 'place of the healing mother, where people gather for health and wellness' in Xhosa, Cape Town's Ubuntu Tree lies just off Kloof Street in the city bowl. The landmark tree ...
Gardens Centre is Cape Town City Bowl's most popular shopping Centre, located just a stone's throw from the bustling Central Business District. Regular Customers visit the centre for the variety and uniqueness ...