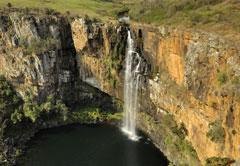 The Berlin Falls tumble down in a single drop for some 80 metres, or about 260 feet, before crashing dramatically into a round basin that is an irresistible jade colour. Seeing the green waters set off by the ...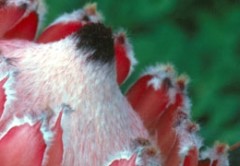 Blyde River Canyon Nature Reserve stretches for some 60km, its southerly reaches extending from just beyond the town of Graskop all the way north to the Abel Erasmus pass. The reserve's remarkable biodiversity ...
The Mpumalanga Lowveld is one of South Africa's most naturally beautiful areas. It is characterised by impressive mountains, rugged cliff faces, forests, and waterfalls. And it is here that the incredible ...
Lisbon Falls is one of the most dramatic and scenic waterfalls in the region. It is situated in the heart of the waterfall area of Mpumalanga, where the number of these dramatic falls exceeds that of anywhere ...
Pinnacle Rock is a massive quartzite rock that erupts from the earth's surface and reaches some 30 metres in height. It is a freestanding rock that towers over the dense indigenous forest of Driekop Gorge in a ...