Kololo Game Reserve is situated in the beautiful province of Limpopo, South Africa, in the heart of the Waterberg biosphere. Vast, peaceful and incredibly beautiful, this is a fascinating destination with a ...
Kwalata Wilderness, close to Lapalala Wilderness Game Reserve in Limpopo, lies in the heart of the biosphere reserve in the beautiful Waterberg just over 300 kilometres from Johannesburg. The greys and blues ...
As a testament to its emphasis on eco-tourism and conservation, the Waterberg boasts Africa's only Rhino Museum, devoted entirely to the conservation of rhinoceros. The species, that has roamed Planet Earth ...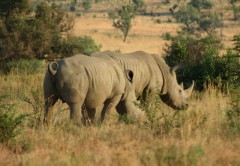 Touchstone Game Farm, a natural heritage site, lies in the north western section of the Waterberg Biosphere Reserve, a privately owned nature conservancy of some 100 000 hectares dedicated to preserving and ...