Things To Do in Robertson

Soekershof Botanical Garden

Parks & Gardens Breede River Valley

Where? Klaas Voogds West, Route 62, Between Robertson & Montagu, Western Cape.

When? Please enquire.

How? Call +27 (0)23 626-4134

How much? Price on request

Overnight? Stay at accommodation in Robertson, in Western Cape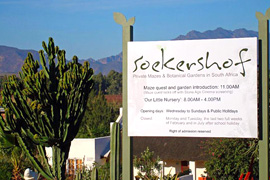 Unfortunately the gardens are no longer open to the public. This text is for informational purposes only.
Soekershof (seekers court) is a searcher of botany's sweet verdict. Plants with truculent reputations landscape succulent scenes. Roots grip history, hedges hide hope, mazes move mysteries and labyrinths link life. Soekershof's Eden encompassing 11 000m² of privately owned mazes and botanical gardens with South Africa's first cactus grounding a century.
Sculptured pastures of 2400 prickly plant species soothe the surprised skyline to the pleasure of garden indulgers. Philosophers of nature loose their urban spikes amongst choreographed cacti and open skies acquainted through comprehensive tours or free roaming. Plant architecture pleases picnickers who play in sight of mountains while light, shapes, shadows and plant perceptions seduce cameras for photographic capture.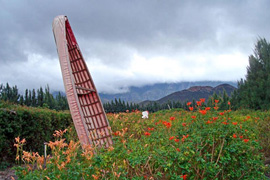 A Stone Age cinema screening commences the maze adventure of camouflaged treasures completed with a handcrafted souvenir for a pocket trophy. The three mazes include the Butterfly Maze, the classical 5 circuit Cactus Labyrinth and the 13 872m² Klaas Voogds Maze. Taste buds discover bloom buds in flower tastings.
Folklore tales confess the conception of the soil and the soul of the region .Classical and contemporary gardening styles cultivate expression with horticulture heaven supplies available from the garden accessory shop and naturally grown nursery. This green cathedral grows miracles and waters inspiration.