Western Cape and Cape Town Things To Do
Cheetah Outreach (Somerset West)
Categories: Animal Sanctuaries
Price group: R1 to R100 per person (see other things to do in this price group)
Available in the following region(s): Cape Helderberg
Stay Overnight: See accommodation in Somerset West, in Western Cape
Address: Paardevlei, De Beers Avenue, Somerset West, Cape Helderberg, Western Cape
Telephone: 27 (0)21 851-6850
Opening hours: Open daily from 10h00 to 17h00 (extended to 18h00 on weekends during high season).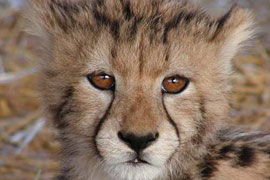 Visit the Cheetah Outreach facility and experience the excitement of a personal encounter with hand raised ambassador cheetahs. (Don't forget to bring your camera!). Heartland's Paardevlei property has made land available to a group of hand-raised cheetahs in the care of the Cheetah Outreach Programme. Learn more about these incredible cats from a distance, or get up close and personal and even step inside an enclosure. Entrance donations help fund the Cheetah Outreach Programme.
Why Not Overnight?
Find Accommodation in Somerset West
Built in the 1930s, the original charm of this beautiful building has been kept for all to enjoy. This 3 star Guest House, with its Cape Dutch charm ...
4 Heaven Guesthouse welcomes you to a unique style of country house living. Your hosts, Melanie and Uwe, have elegantly combined the rustic qualities ...
Related Pages
Travelling to Somerset West
• Somerset West Attractions
• Things to do in Cape Helderberg
• Western Cape Hotels
• Western Cape Accommodation
• South Africa Accommodation
• Cape Town Accommodation