Eastern Cape Game Reserves
Oviston Nature Reserve, Eastern Cape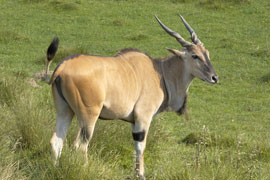 The Oviston Nature reserve lies close to the little Karoo towns of Venterstad and Oviston roughly two hours' drive from Bloemfontein.

That it is in the Karoo should impart the potential for blinding hot summer days, but along with this slight discomfort come crisp, cool evenings, extraordinary sunsets (apparently due to the high level of dust), and a beautiful landscape of wide open grasslands, little 'koppies' and a sky that goes on forever.

Most surprising is the dead calm and essential quiet of Oviston. Generally its visitors are nominal, and if you head there during the week it is easy to feel a sense of incredible peace and a sentiment of getting away from it all. Lying on the southern side of the Gariep Dam, the Oviston Nature Reserve is a 16 000 hectare reserve home to a fair amount of plains game in the form of ostriches, springbuck, zebras, oryx and hartebeest.

Oviston Reserve is one of three nature reserves that border on the Gariep Dam, also known as Lake Gariep, the others are Tussen-die-Riviere (between the rivers) Nature Reserve, reserved for hunters in autumn and winter as it is supposed to support a sizeable amount of game, and the Gariep Nature Reserve.

The area is obviously popular for water sports, given the size of the Gariep Dam (it is over 100 kilometres long and 15 kilometres wide), but in Oviston you can also view game from your car, go on walking trails (there is an overnight hike), bird watch and fish. Oviston Nature Reserve was initially established to preserve False Upper Karoo vegetation and to support a breeding programme for herds of buck, principally for relocation to other sanctuaries.

Did you know?
The shoreline of the Silaka reserve is rough and craggy with a little sandy beach where the river meets the sea. Here the marsh is home to the Cape clawless otter, thickbilled weavers and yellowthroated longclaw.
game and nature reserves in the eastern cape