Mpumalanga Tourist Attractions
Sudwala Caves, Mpumalanga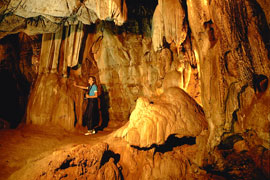 Imagine a system of caves over 30 kilometres in length, of which only 600 metres is accessible, that date back 3 000 million years to a time when incredible stresses cracked the dolomite of the Mankelekele Mountains (also spelt Makelexele) - part of the Drakensberg escarpment that separates the highveld from the lowveld of the Mpumalanga Province - allowing water to slowly trickle, forming a series of passages through the rocks.

The result: an incredible array of mighty chambers studded with giant examples of stalactites, stalagmites and flowstone formations - The Sudwala Caves. Not only are the Sudwala caves regarded as the oldest known caves in the world but the caves rest in Pre-cambrian dolomite rocks that are also amongst the second oldest known sedimentary rocks on Earth. At the base of a gigantic cliff face close to the caves, is the Sudwala rainforest, the recipient of gentle trickles of water over the cliff face.

The Sudwala series of caves are dominated by a roughly circular chamber, 70 metres in diameter with a height of 37 metres - the PR Owen hall - known also as the amphitheatre because of its natural acoustics and 'air conditioning' provided by a constant source of air from outside, the source of which is unknown.

The hour long tours that lead one 600 metres and 150 metres underground on a return route are incredibly interesting and provide worthwhile photo opportunities in the spacious well lit chambers. There is also a crystal tour for the more adventurous, which involves an excursion into the bowels of the earth, 2000 metres into the cave, to a crystal chamber with dazzling examples of sparkling aragonite crystals – a once in a lifetime experience, that admittedly involves stretches of crawling through tunnels, some of which contain water.

Additional Reading:
For more information and photographs see our articles at:
"One of South Africa's most impressive wonders: the Sudwala caves".
For tours, costs and opening times see "Go Deep at Sudwala Caves".
Sudwala Caves
Accommodation nearby
For accommodation nearby see:
• Nelspruit accommodation • White River accommodation • Kruger Park accommodation

Or to see all accommodation in this region, visit Lowveld accommodation.
Related Links
Attractions / Activities nearby

Perry's Bridge Reptile Park is conveniently located just 14kms from Phabeni gate and Numbi gate to Kruger National Park and on the panoramic route to Blyde River Canyon. This is an opportunity not to be missed when you visit the Lowveld. Species to view include: anacondas, reticulated pythons, black ... more information

One of the main reasons to visit Nelspruit, the Lowveld National Botanical Garden lies just outside of town, a beautiful 159 hectare space dominated by rugged, rocky river scenery, and home to over 600 naturally occurring plant species, and a further 2000 that have been introduced to the ... more information

destinations / attractions in mpumalanga