KwaZulu Natal Tourist Attractions
Beachwood Mangroves Nature Reserve, Durban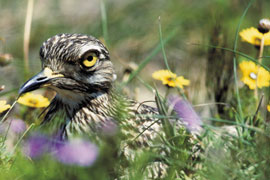 Beachwood Mangroves Nature Reserve is a 76 hectare reserve with the largest population of mangrove trees in the Durban area.

The area is used as a Nature Conservation Education Centre. The black mangrove, the red mangrove, and the white mangrove may be seen.

On the shoreline, there are sand dunes where creeping plants and pioneer scrub are to be found. There is some birdlife, including the Mangrove Kingfisher, Curlew and Water Dikkop. The Natal Nightjar may sometimes be heard. With the help of Lions International, a boardwalk has been built over the channels to gain access

You can also expect to encounter the strange mudskippers - fish that use their pectoral fins to either skim over the water or to propel themselves across the mud. There are also thousands of fiddler crabs with their single large claw and an assortment of molluscs. There are three trails in the reserve, taking the visitors to the bird hide and to the swamp, where waders come to feed.

The Beachwood Mangroves Reserve is only open to the public on Saturdays and Sundays from 08h00 until sunset. The Reserve is just off Riverside Road in Durban North.

Contact Details:
Contact the KwaZulu Natal Wildlife Durban Office on 082 559 2839 for additional information.
Beachwood Mangroves Nature Reserve
Accommodation nearby
For accommodation nearby see:
• Glenashley • Durban North • Morningside

Or to see all accommodation in this region, visit Durban or Durban Hotels.
Related Links
Attractions / Activities nearby
Designed and built in an old quarry site on the banks of the Umgeni River, just 10 minutes outside Durban, the Umgeni River Bird Park is one of the greatest attractions of the city. Walk-through aviaries, birds out on perches, wonderful green vegetation, some amazing waterfalls and rock faces all combine to ... more information

uShaka Marine World in Durban is a world-class entertainment and tourism destination. At the end of Durban's Golden Mile is the beginning of uShaka Marine World - spanning over 15 hectares of prime beach front, uShaka Marine World is Africa's largest Marine Theme park. uShaka incorporates fresh and sea ... more information

destinations / attractions in kwazulu natal